iTunes 11 can't install ipa file
iTunes 11 have sometime problems with installing ipa files How to manage IPA files into iOS device when we can't use iTunes.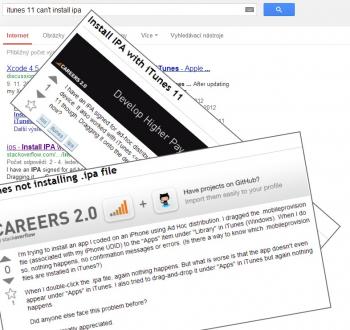 A simple way to install ipa files is to drag into iTunes and installing via the 'Applications' bookmark on the device.
My iTunes has a problem with this method and the application is never installed (I only see the message "will be installed" but the application is not installed).
Alternative: iPhone Configuration Utility
Fortunately there is an alternative way, software from Apple: iPhone Configuration Utility. (You can download from Apple website: iPhone Configuration Utility).
The procedure is simple and similar as in iTunes
Drag IPA file into "Application" bookmark
Open Device and open "application" tab
Find your application and click to install