PHP: Náhled fotogalerie
Jednoduchý skript pro vytvoření obrázku obsahujícího náhledy více obrázků.
Velice jednoduchý skript pro vytvoření náhledů například fotogalerie, který pomocí GD knihovny poskládá náhledy z několika obrázku do jednoho velkého obrázku.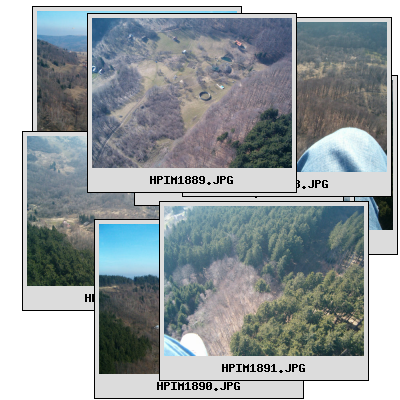 Skript umožňuje zadat libovolný počet obrázku, včetně popisů, které postupně kopíruje a vytváří náhledy o určité velikosti.
Konstruktor třídy má tři nepovinné parametry:
výška v pixelech
šířka v pixelech
barva pozadí
Po vytvoření nové instance je pro naplnění obrázky volána metoda "add", která může mít celkem tři parametry. První dva jsou povinné, třetí je nepovinný:
cesta a název k fotografii
titulek u fotografie
barva rámečku fotografie
Veškeré barvy jsou zadávány ve formátu kódu barvy: #ffffff. Skript si je převede automaticky na RGB a alokuje.
Pro vykreslení obrázku je volána metoda paint();
Velikost miniatur je dána staticky, hodnou proměnné max_size, která je public, čili ji lze měnit. Tato hodnota je v pixelech a udává největší rozměr obrázku, ať už je to výška nebo šířka.
Ve skriptu existuje ještě jedna public proměnná, ke které je přístup. Je to proměnná color a určuje barvu titulku u fotografíí. Defaultně je nastavena na černou barvu.
Při použití velkého množství obrázků nebo obrázků ve velkém rozlišení může být vytvoření náhledů velmi pomalé.
Při generování jsou náhledy v obrázku rozmístěny náhodně, čili při každém novém generování jinak. Pořadí obrázků zůstává stále stejné, a to takové, v jakém byly přidány.
Ukázka vygenerování obrázku:
$

image

=

new

image_album_create

(

550

,

300

)

;

$

image

->

color

=

'#191970'

;

$

image

->

add

(

'HPIM1881.JPG'

,

'HPIM1881.JPG'

)

;

$

image

->

add

(

'HPIM1882.JPG'

,

'HPIM1882.JPG'

)

;

$

image

->

add

(

'HPIM1883.JPG'

,

'HPIM1883.JPG'

)

;

$

image

->

add

(

'HPIM1884.JPG'

,

'HPIM1884.JPG'

)

;

$

image

->

add

(

'HPIM1885.JPG'

,

'HPIM1885.JPG'

)

;

$

image

->

add

(

'HPIM1886.JPG'

,

'HPIM1886.JPG'

)

;

$

image

->

add

(

'HPIM1887.JPG'

,

'HPIM1887.JPG'

)

;

$

image

->

add

(

'HPIM1888.JPG'

,

'HPIM1888.JPG'

)

;

$

image

->

add

(

'HPIM1889.JPG'

,

'HPIM1889.JPG'

)

;

$

image

->

add

(

'HPIM1890.JPG'

,

'HPIM1890.JPG'

,

'#808000'

)

;

$

image

->

add

(

'HPIM1891.JPG'

,

'HPIM1891.JPG'

,

'#708090'

)

;
Zdrojový kód třídy:
1

2

3

4

5

6

7

8

9

10

11

12

13

14

15

16

17

18

19

20

21

22

23

24

25

26

27

28

29

30

31

32

33

34

35

36

37

38

39

40

41

42

43

44

45

46

47

48

49

50

51

52

53

54

55

56

57

58

59

60

61

62

63

64

65

66

67

68

69

70

71

72

73

74

75

76

77

78

79

80

81

82

83

84

85

86

87

88

89

90

91

92

93

94

95

96

97

98

99

100

101

102

103

104

105

106

107

108

109

110

111

112

113

114

115

116

117

118

119

120

121

122

123

124

125

126

127

128

129

130

131

132

133

134

135

136

137

138

class

image_album_create

{

private

$

photos

=

array

(

)

;

private

$

titles

=

array

(

)

;

private

$

background_colors

=

array

(

)

;

private

$

background

=

null

;

public

$

color

=

'#000000'

;

* Konstruktor tridy. Umoznuje nastavit velikost celkového obrazku a barvu pozadi.

function

__construct

(

$

width

=

400

,

$

height

=

400

,

$

background

=

'#ffffff'

)

{

$

this

->

background

=

$

background

;

* Metoda pro pridani fotografie.

* Vstupni parametry jsou: cesta k fotografii, titulek, barva pozadi

function

add

(

$

photo

,

$

title

,

$

bgcolor

=

'#dcdcdc'

)

{

$

this

->

photos

[

]

=

$

photo

;

$

this

->

titles

[

]

=

$

title

;

$

this

->

background_colors

[

]

=

$

bgcolor

;

public

function

decodeColor

(

$

htmlColor

)

if

(

$

htmlColor

[

0

]

!=

'#'

)

{

$

red

=

hexdec

(

@

substr

(

$

htmlColor

,

1

,

2

)

)

;

$

green

=

hexdec

(

@

substr

(

$

htmlColor

,

3

,

2

)

)

;

$

blue

=

hexdec

(

@

substr

(

$

htmlColor

,

5

,

2

)

)

;

return

$

vcolor

=

array

(

$

red

,

$

green

,

$

blue

)

;

function

_create_image

(

)

{

$

this

->

image

=

imagecreatetruecolor

(

$

this

->

width

,

$

this

->

height

)

;

$

color

=

imagecolorallocate

(

$

this

->

image

,

255

,

255

,

255

)

;

$

colors

=

self

::

decodeColor

(

$

this

->

background

)

;

$

this

->

bcg

=

imagecolorallocate

(

$

this

->

image

,

$

colors

[

0

]

,

$

colors

[

1

]

,

$

colors

[

1

]

)

;

ImageFilledRectangle

(

$

this

->

image

,

0

,

0

,

$

this

->

width

,

$

this

->

height

,

$

this

->

bcg

)

;

$

center_x

=

$

this

->

width

/

2

;

$

center_y

=

$

this

->

height

/

2

;

for

(

$

i

=

0

;

$

i

<

count

(

$

this

->

photos

)

;

$

i

++

)

{

$

im

=

self

::

_add_image

(

$

this

->

photos

[

$

i

]

,

$

this

->

titles

[

$

i

]

,

$

this

->

background_colors

[

$

i

]

)

;

imagecopy

(

$

this

->

image

,

$

im

,

$

center_x

+

rand

(

0

-

$

center_x

,

$

center_x

-

imagesx

(

$

im

)

)

,

$

center_y

+

rand

(

0

-

$

center_y

,

$

center_y

-

imagesy

(

$

im

)

)

,

0

,

0

,

imagesx

(

$

im

)

,

imagesy

(

$

im

)

)

;

Header

(

"Content-Type: image/png"

)

;

header

(

'Pragma: public'

)

;

header

(

'Cache-Control: no-store, no-cache, must-revalidate'

)

;

header

(

'Cache-Control: pre-check=0, post-check=0, max-age=0'

)

;

header

(

"Pragma: no-cache"

)

;

function

_add_image

(

&

$

img

,

&

$

title

,

$

color

)

{

if

(

!

file_exists

(

$

img

)

)

{

$

size

=

getimagesize

(

$

img

)

;

case

1

:

$

temp_img

=

imagecreatefromgif

(

$

img

)

;

break

;

case

2

:

$

temp_img

=

imagecreatefromjpeg

(

$

img

)

;

break

;

case

3

:

$

temp_img

=

imagecreatefrompng

(

$

img

)

;

break

;

$

size

=

self

::

_get_new_size

(

$

size

[

0

]

,

$

size

[

1

]

)

;

$

new_img

=

imagecreatetruecolor

(

$

size

[

'width'

]

+

10

,

$

size

[

'height'

]

+

30

)

;

$

color

=

self

::

decodeColor

(

$

color

)

;

$

color

=

imagecolorallocate

(

$

new_img

,

$

color

[

0

]

,

$

color

[

1

]

,

$

color

[

2

]

)

;

ImageFilledRectangle

(

$

new_img

,

0

,

0

,

$

size

[

'width'

]

+

10

,

$

size

[

'height'

]

+

30

,

$

color

)

;

imagecopyresampled

(

$

new_img

,

$

temp_img

,

5

,

5

,

0

,

0

,

$

size

[

'width'

]

,

$

size

[

'height'

]

,

$

old_width

,

$

old_height

)

;

$

black

=

self

::

decodeColor

(

$

this

->

color

)

;

$

black

=

imagecolorallocate

(

$

new_img

,

$

black

[

0

]

,

$

black

[

1

]

,

$

black

[

1

]

)

;

self

::

_add_title

(

$

new_img

,

$

title

,

$

size

[

'width'

]

+

10

,

$

size

[

'height'

]

,

$

black

)

;

imagerectangle

(

$

new_img

,

0

,

0

,

$

size

[

'width'

]

+

9

,

$

size

[

'height'

]

+

29

,

$

black

)

;

//$new_img = imagerotate($new_img, 1, $this->bcg);

function

_add_title

(

&

$

img

,

$

title

,

$

width

,

$

height

,

$

black

)

{

if

(

trim

(

$

title

)

===

null

)

$

font_width

=

imagefontwidth

(

3

)

;

if

(

(

$

width

-

10

)

/

$

font_width

<=

strlen

(

$

title

)

)

imagestring

(

$

img

,

3

,

5

,

$

height

+

10

,

substr

(

$

title

,

0

,

ceil

(

$

width

-

10

)

/

$

font

_

width

)

,

$

black

)

;

$

start

=

$

width

/

2

-

(

strlen

(

$

title

)

*

$

font_width

)

/

2

;

imagestring

(

$

img

,

3

,

$

start

,

$

height

+

10

,

$

title

,

$

black

)

;

function

_get_new_size

(

$

width

,

$

height

)

{

$

new_size

[

'width'

]

=

$

this

->

max_size

;

$

p

=

$

width

/

$

new_size

[

'width'

]

;

$

new_size

[

'height'

]

=

round

(

$

height

/

$

p

)

;

}

elseif

(

$

height

>

$

width

)

{

$

new_size

[

'height'

]

=

$

this

->

max_size

;

$

p

=

$

height

/

$

new_size

[

'height'

]

;

$

new_size

[

'width'

]

=

round

(

$

width

/

$

p

)

;

}

elseif

(

$

height

==

$

width

)

{

$

new_size

=

array

(

'width'

=

>

$

this

->

max_size

,

'height'

=

>

$

this

->

max

_

size

)

;