Goolag Scanner
To že je Google často využívaný pro hledání bezpečnostních chyb na webu je známý fakt. Goolag Scanner je nástroj, který dokáže tuto práci usnadnit a automatizovat.
Google je velmi častým nástrojem pro odhalování bezpečnostních chyb na webových stránkách. Chyby se hledají pokládáním určitých dotazů, které zjišťují, zda existuje na daném webu určitá skutečnost.
Hackerská skupina Cult of the Dead Cow (www.cultdeadcow.com) představila software, který dokáže takové hledání automatizovat.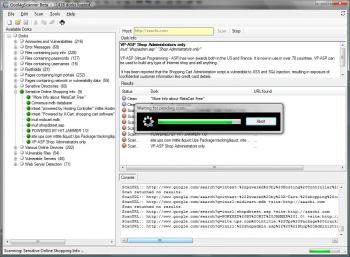 Nástroj GoolagScanner je velmi jednoduchý. Po spuštění nemusíte nic nastavovat a pouze do pole Host zadáte URL adresu, kterou chcete prověřit a ze seznamu (v mé verzi GoolagScanneru obsahuje 1418 možností) vyberete chyby, které chcete kontrolovat.
Scanner vás průběžně o scanování informuje a vy můžete jenom sledovat, které chyby jsou prověřeny a jejich status.
Co na to google?
Jelikož veškeré hledání probíhá prostřednictvím googlu, není to ani jemu příjemné a nenechává si to líbit. Samotný program vás při výběru velkého množství chyb varuje, že scanování tak velkého množství chyb může vést až k blokaci IP adresy.
Závěrem
Nicméně nástroj je to zajímavý a i když jej nevyužijete pro scanování, můžete z něj studovat chyby, protože jednotlivé zranitelnosti jsou zde podrobně popsány.
Navíc je program doplněn o konzoli, ve které můžete sledovat aktuálně prováděné dotazy na google.